Articles
Club gets platinum touch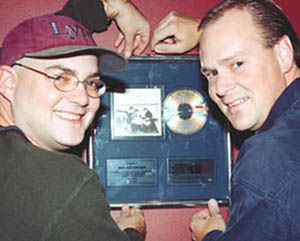 Photo by Nigel Armstrong
Paul MacAusland, left, the voice behind several major radio hits for Haywire in the '80s and early '90s, presents a copy of the platinum certification plaque they received for one of their albums to Bob MacMillan, general manager of Myron's. The plaque will hang in the club's new Rhythm & Blues Cafe. Myron's announced Thursday that Haywire will reunite for a New Year's Eve show at that Charlottetown entertainment complex.
"Popular P.E.I. rock band reunites for New Year's"

The Guardian - Friday, Oct 22,1999

By Doug Gallant
Almost eight years after they last played together as a band, the members of Haywire have decided to reunite for a special New Year's Eve show in Charlottetown, The P.E.I. band, once voted the best rock act in Canada, will ring in the new millennium at Myron's Cabaret as part of the club's Millennium Madness event. Details of the event were unveiled at Myron's new private member's club Thursday by Bob MacMillan, the club's general manager, who says they're thrilled to play host to this significant musical event.
Haywire lead vocalist Paul MacAusland, the only member of the band on hand for Thursday's announcement, said he's a little nervous about the idea, but that he and other members of the band are looking forward to playing this show. "I'm a little nervous about doing this because we haven't played together for several years," MacAusland said. "When David (bass player David Rashed) comes down from Toronto where he lives now, he'll get up and jam with us, but we don't play Haywire tunes. Some of us got together three or four weeks ago and we did play three or four Haywire tunes and it was fun doing that. I'm sure it will all come back to me when we're up there."
MacAusland, who presented the club with a copy of one of the band's platinum album certification plaques for its new rhythm and blues cafe, said he has one minor concern at this point. "I don't think my old Spandex is going to fit me anymore." The New Year's Eve show won't be a radical reintroduction to the stage for Haywire. With the exception of Rashed, who's now a record producer, virtually everyone else is is still playing. "Ronnie (bass guitarist Ronnie Switzer), Marvin (guitarist and back-up singer Marvin Birt) and myself are still playing. "Davis is doing a little bit of playing but has turned mostly to production. Sean (drummer Sean Kilbride) has played with Universal Honey and another band in Toronto."
That fans will welcome the news goes without saying. A trip around the Internet uncovered a number of sites dedicated to the band, several with messages from fans hoping for their return. That the band still has a large fan base should not come as a surprise. During their years together, Haywire won the Q104 Homegrown contest; the Labatt's Battle of the Bands and the Music Express magazine fan vote as group of the year, among other honours. Singles like Dance Desire, Black and Blue and Bad Bad Boy played on radio across the country and their albums sold in the tens of thousands.
The cost of the New Year's Eve ticket for Haywire is $50 per person for the show alone, or $250 per couple for the show, a reception and an eight-course meal. The Millennium Madness lineup at Myron's also includes performances by Fiddlers Sons and Urban Outlaws. Further details are available by calling Myron's.